Yohei Ariga×SeventySeven JT (Demo Videos Included)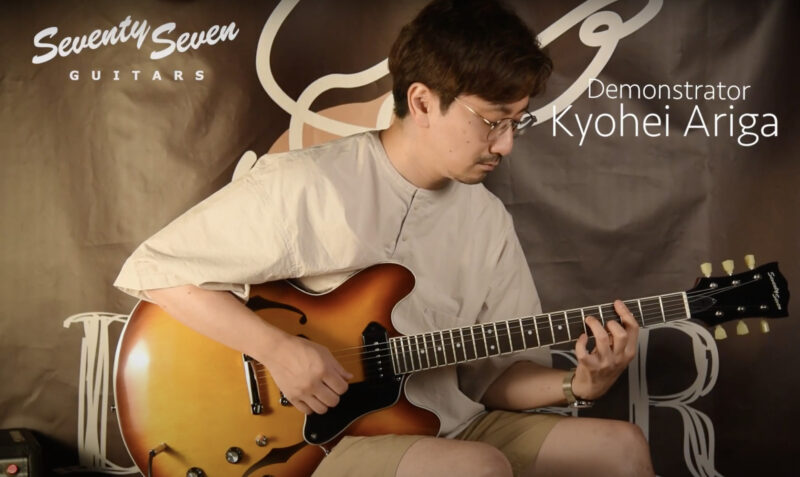 We asked SeventySeven guitarist Kyohei Ariga, who has been using SeventySeven guitars on a regular basis for a while now to try out all four models in the SeventySeven Japan Tune-up Series!
Kyohei Ariga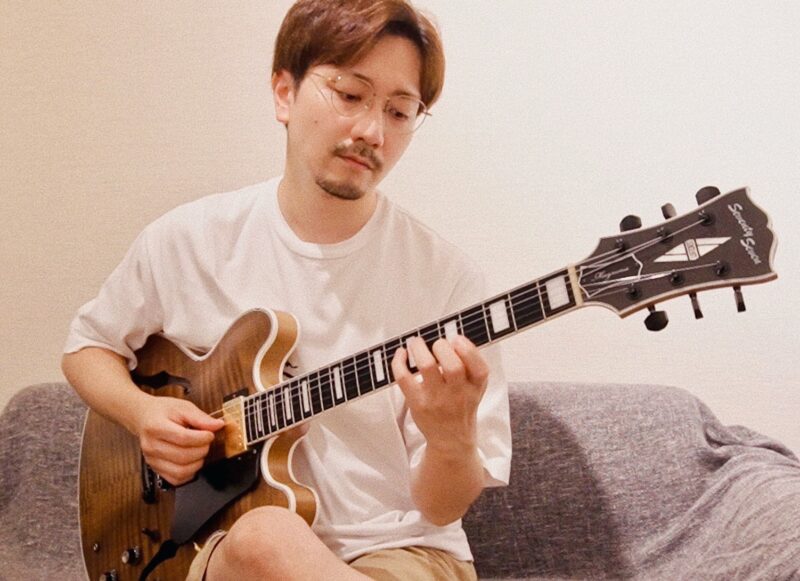 Biography
He is active in supporting and recording many artists.
He is well known both in Japan and abroad for his unique groove.

Works-
TOKU/Kurt Carr/Ralph Rolle(CHIC)/Philip Woo/Matsuda Seiko/Official髭男dism/Dance of Philosophy/Anna Takeuchi/Mirai Ito/Aya Uchida/Aika Kobayashi/Marei Uchida/Aiki Toyosaki/Marika Takano/You Kamiyama/Yusuke Saeki/Yosai Ishibashi/ Daisuke Namikawa/ Daisuke Yamashita / Kazuho So / Reruri / Amagatsu / Soraru / Mei-chan / Luz / Kei-chan / Kobasolo / Lefty Hand Cream / Ken Yokoyama (Crazy Ken Band) / Robert Akiyama's Creator's File / Love Live! /Aikatsu/ Music for TV shows and movies and more.
EXRUBATO-STD-JT
The first one is a standard semi-acoustic model EXRUBATO-STD-JT from the SeventySeven JT Series.
This model has the same shape as "EXRUBATO/MAGNOLIA-SP'19" that Mr. Ariga uses on a daily basis.
The EXRUBATO-STD-JT has a varied color lineup! As of July 2022, there are seven colors!
Not only the elegant red, black, and burst colors, but also OLG (Olive Green), ABR (Aged Brown), which are of a see-through coloring that shows the grain of the maple, and other uncommon colorings for semi-acoustic instruments.
EXRUBATO-CTM-JT
The EXRUBATO-CTM-JT is a custom type model with wooden flame maple on the top, sides, and back of the body, also featuring binding and block inlay design on the neck.
The gorgeous look of this model is a bit different from the standard models, which makes it easier for players to express their individuality and find a model to their liking.
EXRUBATO-STD/S-JT
The EXRUBATO-STD/S-JT uses P-90 pickups, which Mr. Ariga said he found to be his favorite of the four models he tested.
The P-90 type pickups are SeventySeven's originals that use Alnico V magnets.
While it has a hardness with crisp peaks, it has the powerful and thick sound characteristic of Alnico V magnets. They envelop the sound with a feeling of warmth that is unique to semi-acoustic pickups. This is a characteristic of the combination of semi-acoustic and P-90 pickups.
It is ideal to play well not only in jazz but also in genres such as neo-soul.
HAWK-STD/DEEP-JT
Full acoustic model HAWK-STD/DEEP-JT.
The shape with a florentine cutaway offers excellent playability and a sleek look.
As the name "DEEP" implies, this is a deep-bodied guitar with a rich, natural sound inherited from Headway's acoustic guitar-making technology and techniques.
This model is perfect for playing natural, swinging jazz-like rhythms, or for enjoying a stack of fashionable chords with the hollow-body sound through the pickups.
---
◇DEVISER 公式 Twitter◇
◇DEVISER 公式 Instagram◇
◇DEVISER 公式 Facebook◇