STR Custom Shop Gallery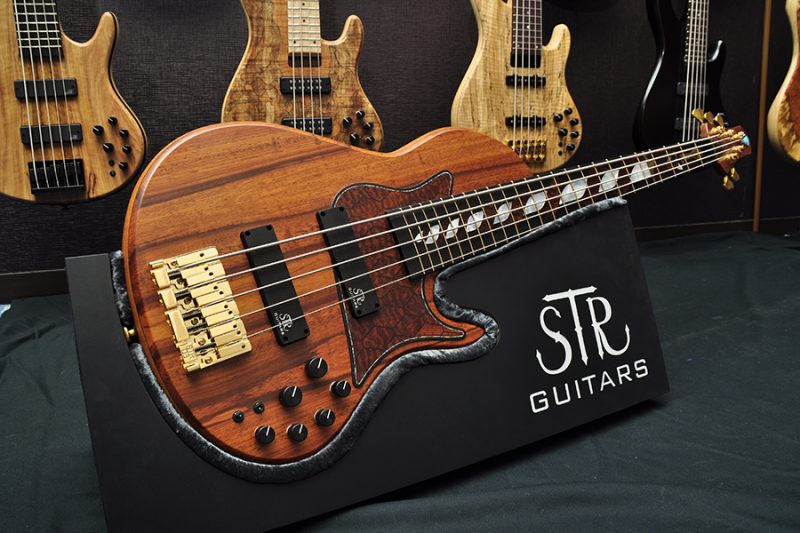 Each STR Custom Shop instrument is a "one-of-a-kind" instrument with unique specifications and is either custom-made to the customer's request or created for special occasions such as musical instrument events. Each instrument is made with the utmost care and attention to detail, including the use of gorgeous tonewoods and customer-specific inlay designs that are not possible with mass-produced instruments.
This STR Custom Shop Gallery is an archive of some of the STR Custom Shop basses and guitars that we have made through the years. We hope you will enjoy looking at the instruments we have made, and also use them as a reference for your custom-made basses and guitars.
Electric Basses
ELECTRIC BASS
The letters at the beginning of the model name refer to the basic body shape, the first digit of the number specifies the number of strings, the second digit specifies the scale, and the last digit specifies the pitch between the strings.
About the body shapes
| | |
| --- | --- |
| LS(Lead Style) | 24 frets, mostly 3-piece or 5-piece neck, double cutaway, bolt-on neck joint |
| CS(Classic Style) | 21 frets, primarily 1-piece neck, double cutaway, bolt-on neck joint |
| SC(Single Cut) | 24 frets, single cutaway, bolt-on neck joint |
| DLS(Deluxe Lead Style) | 24 frets, double cutaway, set-neck joint |
| DSC(Deluxe Single Cut) | 24 frets, single cutaway, set neck joint |
About the first digit
| | |
| --- | --- |
| 4 | 4-string |
| 5 | 5-string |
| 6 | 6-string |
| 7 | 7-string |
About the second digit
| | |
| --- | --- |
| 3 | 33-inch scale |
| 4 | 34-inch scale |
| 5 | 35-inch scale |
About the third digit
| | |
| --- | --- |
| 8 | 18mm string pitch |
| 9 | 19mm string pitch |
LS model
LSA model
CS model
SC model
DLS model
DSC model
Electric Guitars
ELECTRIC GUITAR
| | |
| --- | --- |
| SB-SOLID | Solid-body, arch top, set neck joint, single cutaway, 22 frets, 2 humbucking pickup layout. |
| SB-HOLLOW | Carved laminated wood body top and sides, 22 frets, 2 humbucking pickup layout |
| OS-622 | Double cutaway, 22 frets, 2 humbucking pickup layout |
| OS-624 | Double cutaway, 22 frets, 2 humbucking pickup layout |
SB model
OS model
JTG Design