#OneDayGuitarShow2022 – A hollow-body, fretless, WOODLINE model!?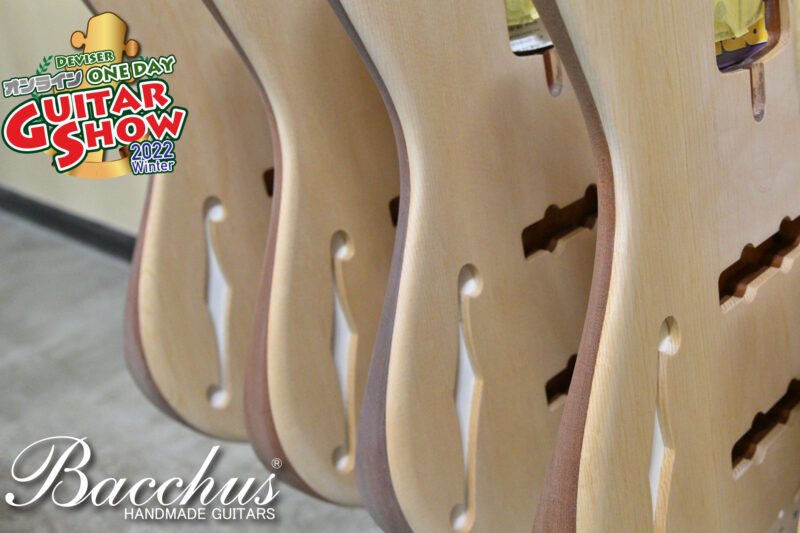 The -WOODLINE- series is a long-time fan favorite among Bacchus products.
With the concept of "The handcrafting process bringing out the true tone and beauty of the wood." in mind, we developed this series with features that improve playability such as a downsized body shape, a tight sound profile that can take on any genre, and Bacchus' iconic oil finish that gives you a better sound the more you play it.
-Today we want to introduce the limited edition -WOODLINE- model that will be presented at the Deviser One Day Guitar Show 2022 that's coming on November 15.
Hollow body!?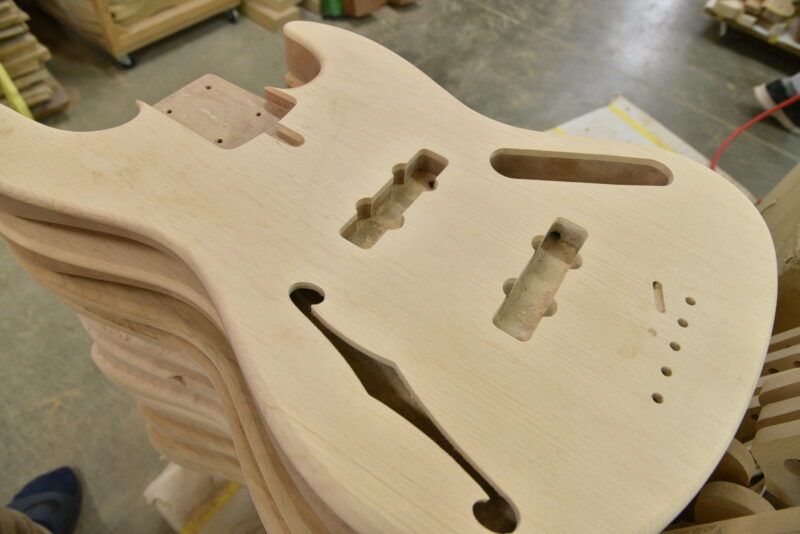 The limited edition WOODLINE model will feature a hollow body with an open F-hole!
This is the first hollow-body bass we have made in about 2 years.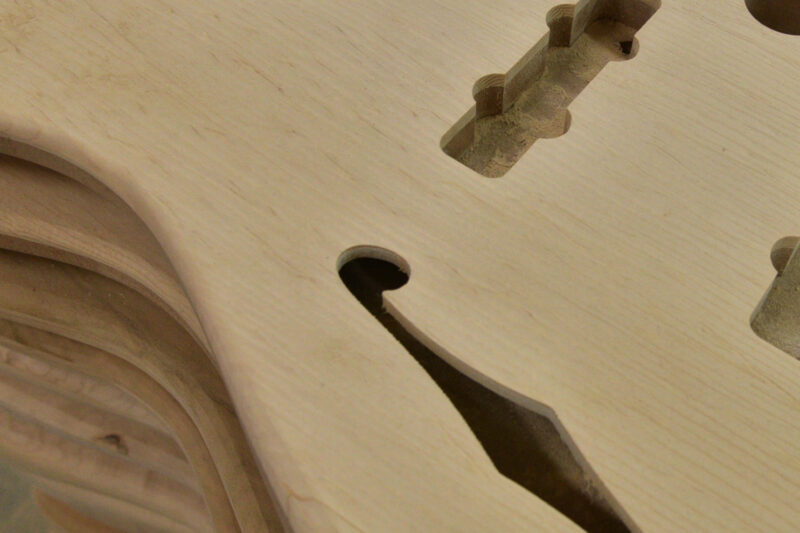 Bear-claw spruce, which is characterized by its claw-like marks that resemble bear scratches, is used as the top material.
The soft and airy sound characteristic of the spruce is very appealing and combined with the mahogany body and hollow construction, it is a perfect match for jazzy and mellow playing.
The sound can be described as "the pure tone of the wood", and you will be able to enjoy the true sound of WOODLINE with this model.
Fretless!?!?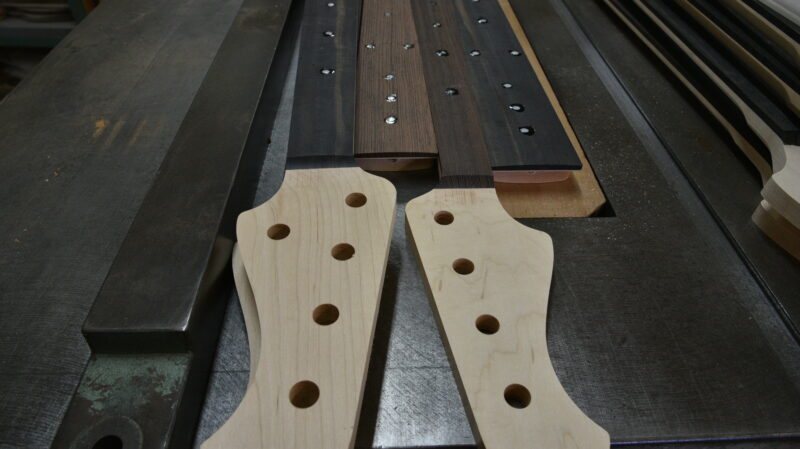 After inspecting the neck at the workshop I confirmed that it is in fact…Fretless!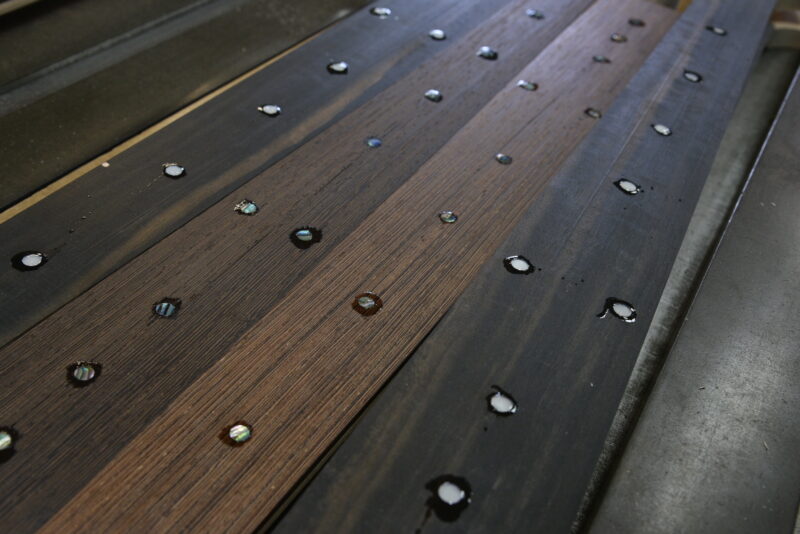 The bass is an instrument that normally determines its pitch by the position of its frets.
However, a fretless bass is, as the name implies, a bass with no frets.
The WOODLINE is a long-standing series, but this is the first time a hollow-body model with a fretless construction has been produced.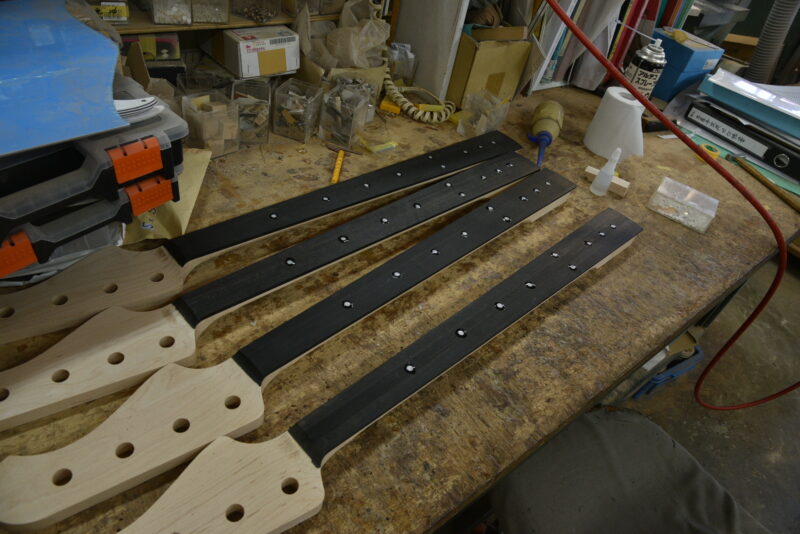 The absence of frets makes it extremely difficult to hit exact notes, but rather the absence of frets allows for seamless movement between notes.
In other words, you can express a semitone of a semitone, and then another semitone of another semitone, and so on.
The sound is also unique to the fretless construction.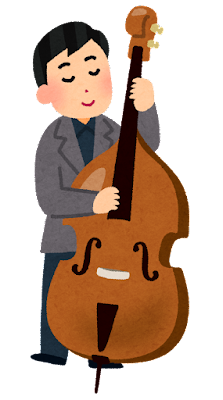 This -WOODLINE- model features a spruce top and mahogany body with acoustic-like wood selection, hollow construction, and fretless specification, which makes it sound and feel very much like a double bass.
This is the perfect opportunity to try something different! Give it a go and discover what kind of sounds this fretless bass can produce!
Of course, we are also making normal fretted models!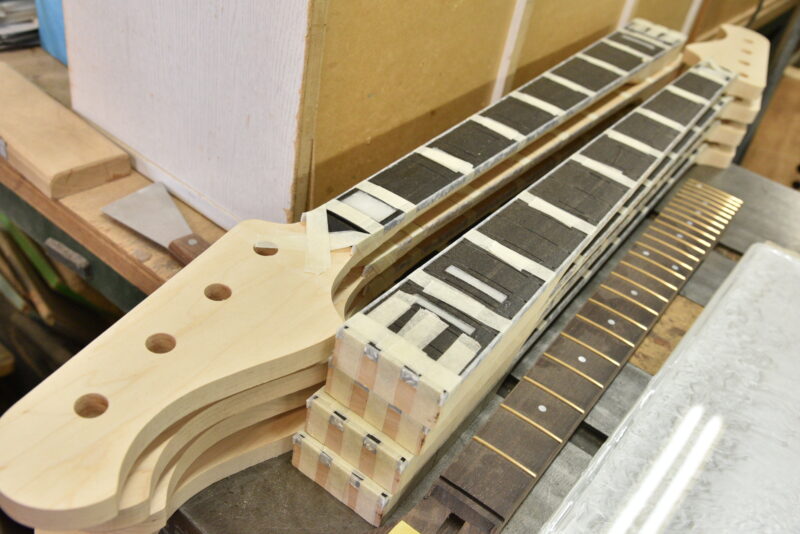 Fret not!!- or wait… Yes, frets! (?)
Please don't worry, we'll be making normal fretted models as well for the event.
The 2022 Deviser One-Day Guitar Show Limited Edition WOODLINE can be used for walking to urban sounds such as neo-soul, which has become popular in recent years, or for playing melodies, or even for bassy slap play, as it has a turbo switch like the conventional WOODLINE.
Be either the unique fretless WOODLINE models or the more familiar fretted ones, we absolutely recommend you give these upcoming limited edition WOODLINE basses a chance!
Deviser One Day Guitar Show 2022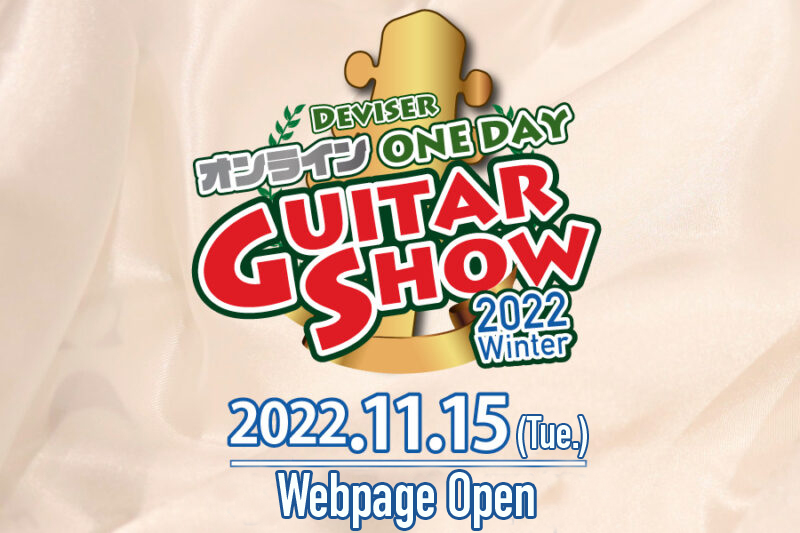 We will reveal all the limited edition and new products of the various Deviser brands on its own feature site on November 15!
We will provide more information about the model shown on this page and much more before the release of the feature site, so keep an eye out on all of our social media accounts and on the news section of our webpage!!
---