New release! A new Headway Universe series model with overflowing warmness!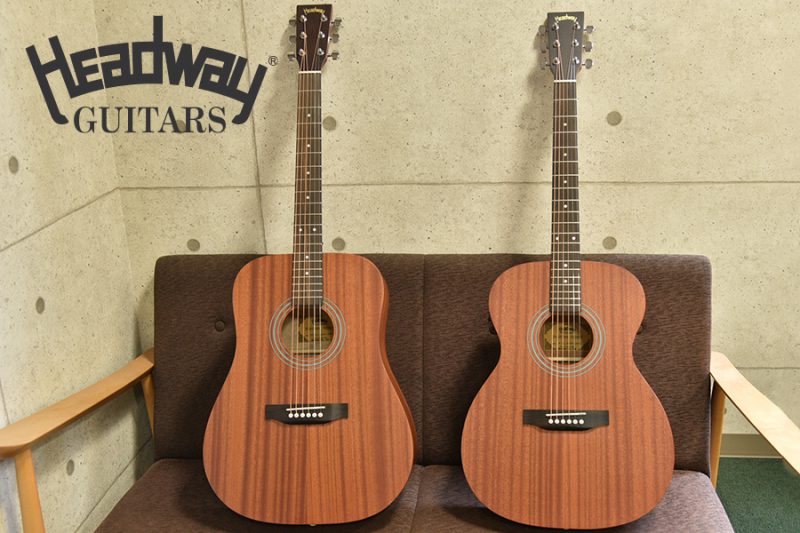 This summer, a new model will be released from the Headway Universe series!
Their names are "HD-BROWNIE" and "HF-BROWNIE".
A natural satin matte finish is used to bring out the natural color of the wood, and the decorations on the body are kept simple to give it a look that will naturally blend with the ambiance of any house.
We named it "BROWNIE" because of its cute appearance full of the warmth of wood.
Using Sapele wood for the whole body
"Sapele" is characterized by its similarity in grain and color to mahogany, a renowned wood.
In addition, the density of the wood is very close to that of mahogany, which gives it a warm sound that is characteristic of mahogany, making it a noteworthy material.
The BROWNIE series has an all-Sapele construction, with the top, back, and sides all made of Sapele.
It has a soft and warm mid-range, and easily fits a wide range of genres and playstyles.
Satin finish that conveys the warmth of wood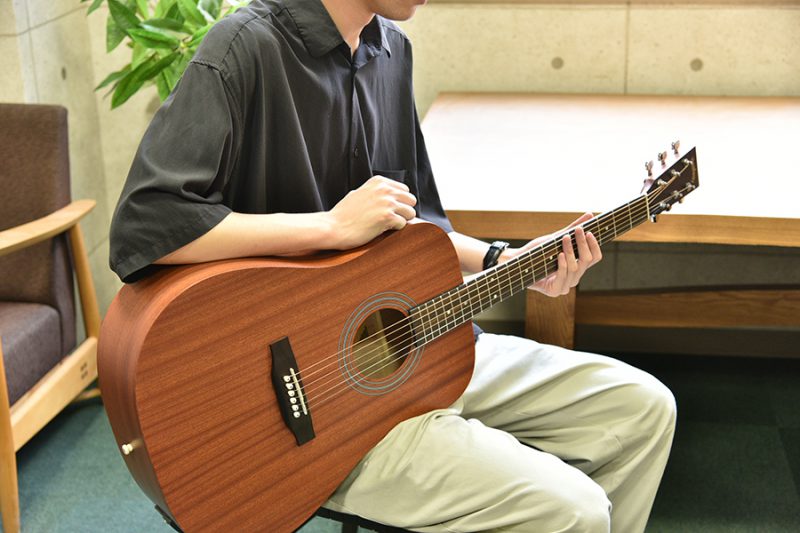 For the coloring, we went for a natural matte color that makes full use of the reddish-brown color of the Sapele and the "ribbons" that are formed by the well-defined shading of the wood.
The thin satin matte finish allows the pure sound of the Sapele itself to resonate richly.
In addition, the binding on the body has been removed to simplify the overall aesthetic and create a woody, warm look.
Fully-fledged specifications that are fitted even for concerts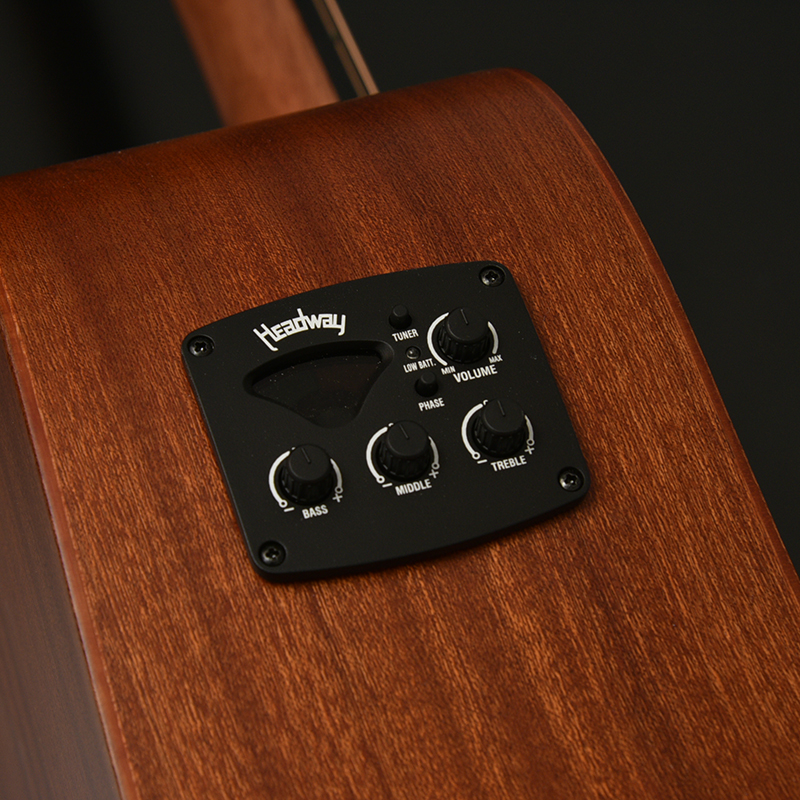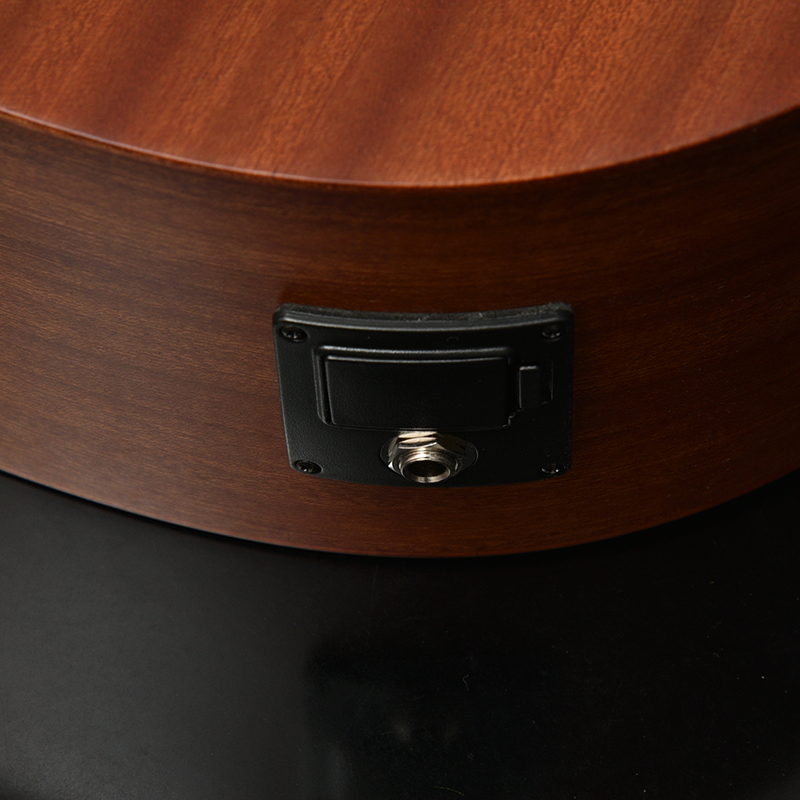 The BROWNIE series is equipped with Headway's original "Headway HG-3" pickup.
Of course, it can be played live, but it can also be played as an electric acoustic guitar by connecting it to an amp or DI. It is designed to be used in live situations where high volume is required. (A battery box is provided near the shielding jack, and a 9V battery is required.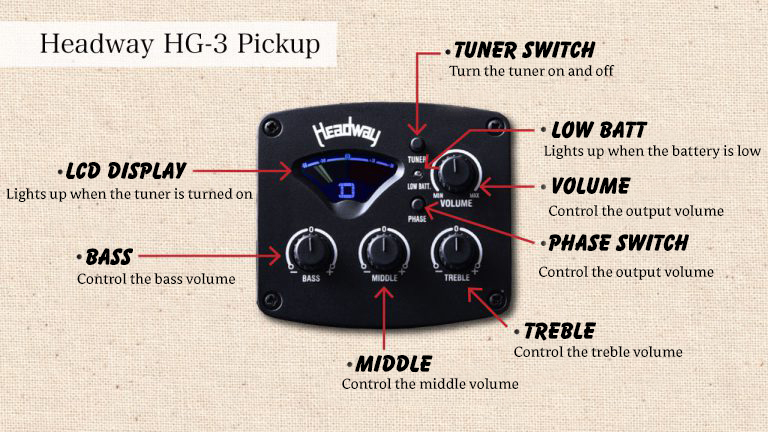 The Headway HG-3 is a multifunctional pickup with 3-band EQ, phase switch, and tuner functions.
The LED display lights up when it is activated, making it highly visible even in low-light environments, making it easy to tune and set controls no matter the situation.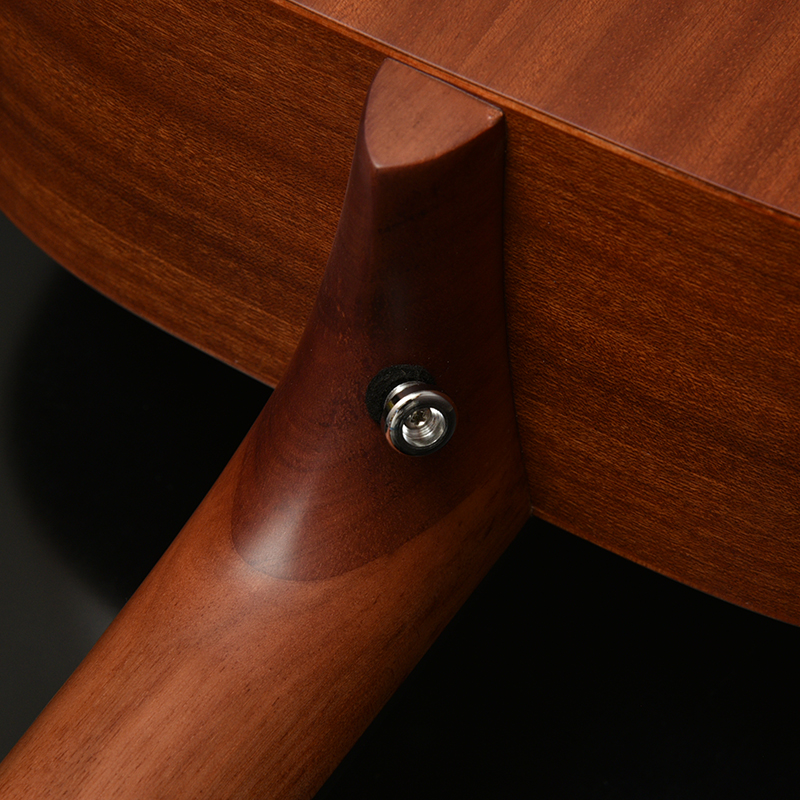 A strap pin is also included attached to the neck heel which is a useful feature for anyone interested in playing standing up.
Demo video
The person who tested the HD-BROWNIE and HF-BROWNIE this time was Tatsuya Maruya, a fingerstyle guitarist who has a worldwide following on Twitter, Instagram, and other social networking sites!
We asked him to play both with and without an amplifier, so please pay attention to the differences in sound characteristics between the two output methods!
HD-BROWNIE
HF-BROWNIE
Maruyama Tatsuya – Biography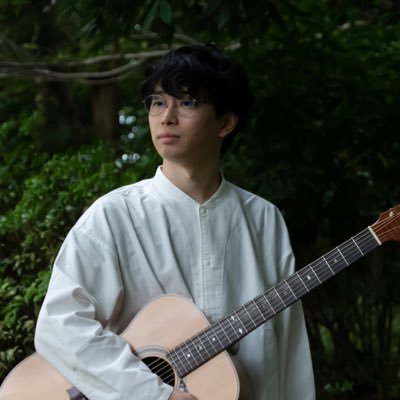 Guitarist
Born in 1993 in the city of Hokkaido, currently resides in Tokyo.
He started playing guitar at the age of 13 and started his music career at the age of 14 by posting videos on YouTube.
Currently (as of 2019), he has over 4 million total views on YouTube and over 1 million total views on Spotify.
In addition, he has been picking up steam on Instagram, especially with overseas fans.
With the concept of "melodious music that blends in with everyday life", he creates music mainly with fingerstyle guitar.
In recent years, he has expanded his activities to include providing and producing music for radio programs, stage performances, and video productions.
He is also active as a graphic designer under the name "MEREYAMO".
Twitter Instagram YouTube LINE
Today models

Headway Universe series 【HD-BROWNIE】
MSRP…¥45,000(w/o Taxes)

Headway Universe series 【HF-BROWNIE】
MSRP…¥45,000(w/o Taxes)