【Momose】Kazuki Isogai's Signature Model Started Production!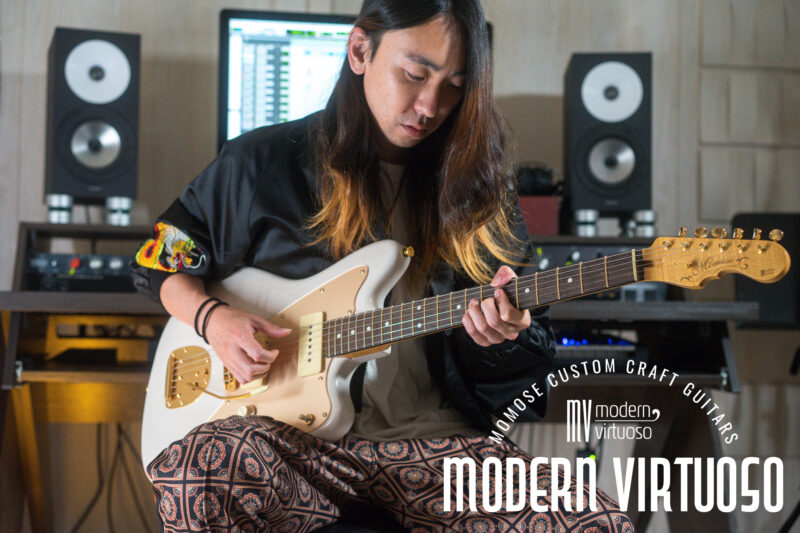 A few days ago, Kazuki Isogai himself announced the production of his new signature model on his social media accounts, maybe you even saw the post.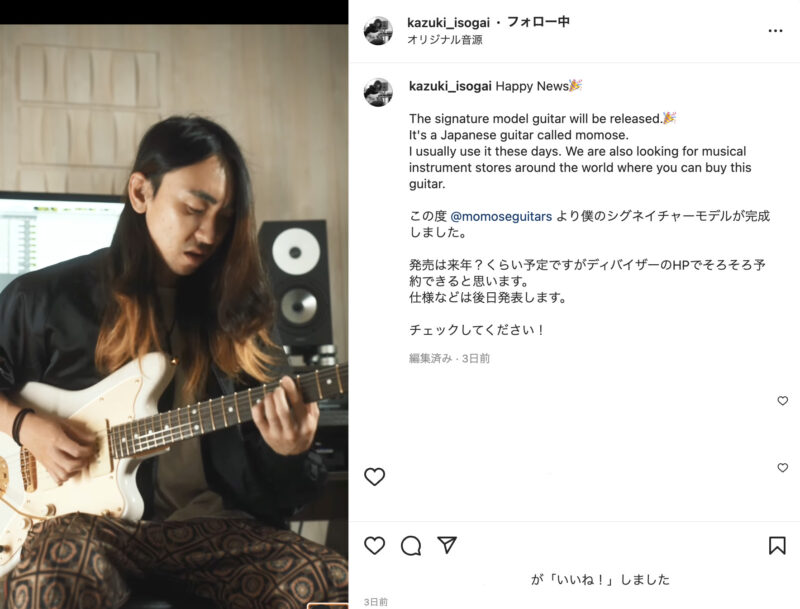 Kazuki Isogai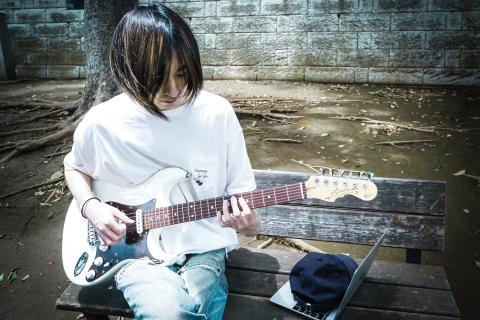 Biography
A guitarist living in Tokyo, Japan. With over 200,000 followers on Instagram, it is popular both in Japan and overseas.
He participated in the 2019 NAMM SHOW. In the same year, he gradually expanded his business overseas and experienced tours in Asia, the US, Europe, and Africa.
In addition to his own activities, he has supported and recorded for artists such as Kaela Kimura, CreepyNuts, Iri, and SKY-HI.
In 2022, he joined SANABAGUN.
Lastly, this July of 2022, the production of his own signature model started.
Kazuki Isogai's Beloved Tochi Sound

The chance to start developing the signature model came thanks to the "MJM-FT-SP'20/WG BK-B-MH," a limited edition model for the 2020 Deviser Special Collection.
The greatest feature of this model is the use of Japanese horse chestnut (Tochi) for the body material. He fell in love with the sound produced by the Tochi body and has used it on many job sites and in music production.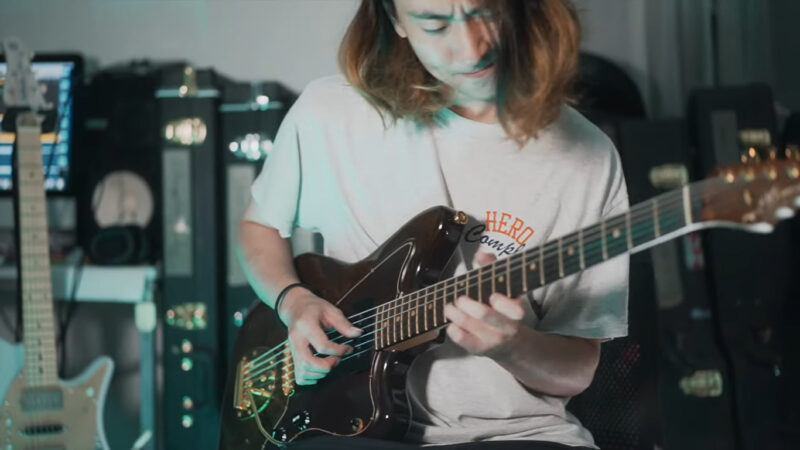 Tochi is slightly weighty and is a relatively soft material, and its sound is characterized by a moderately solid tone that cuts through the mix with a shimmering midrange. It handles distortion really well, coming through well-defined even on the lower tones, and thanks to this, matching a wide variety of different musical genres.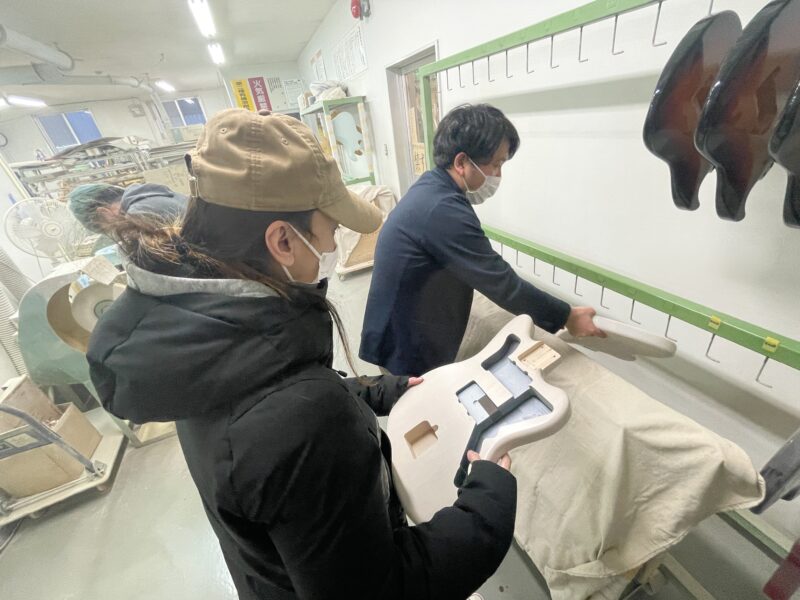 Kazuki Isogai was originally looking for a JM model, and after trying out many JMs, including vintage ones, he concluded that the Momose Tochi body JM had the most suitable sound for what he was looking for among the candidates.
The creation of this new signature model started with discussions of making an improved version of his current Tochi guitar.
With Specs Designed For The Modern Musician ―
Is The Modern Virtuoso Series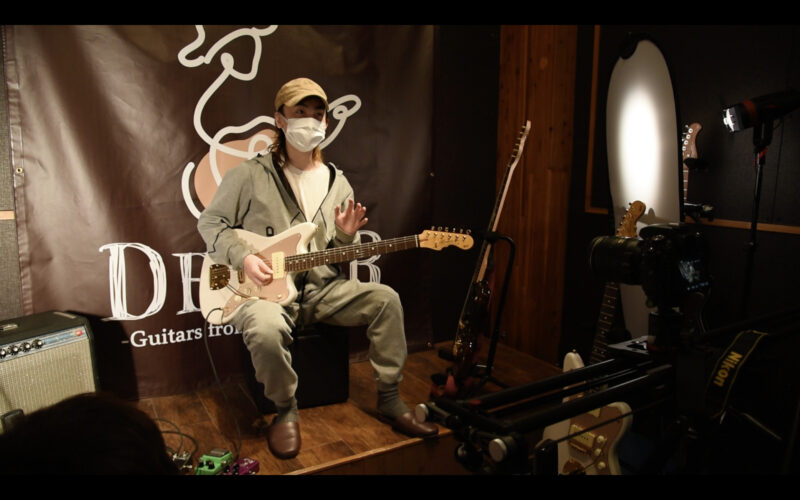 We had many meetings with Kazuki Isogai throughout the development of this model, and we know he not only works as a soloist but also supports many artists and does studio work, so we worked hard to arrive at a set of specifications that could be used in all the different fields he needed it to cover.
The guitar's image, sound, and specifications are what Kazuki Isogai was looking for.
Momose's flagship line, the Modern Virtuoso Series, was a perfect fit for the job.
About The Modern Virtuoso Series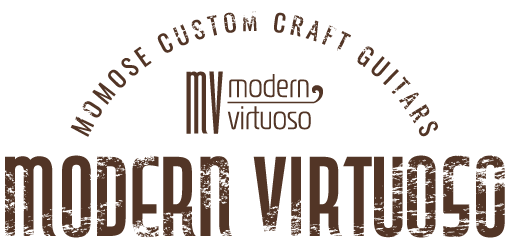 A virtuoso is the master of an art, and this word is usually utilized when talking about music.
The terms "musical master" and "virtuoso" have a slightly ostentatious image of portraits hanging in a music room, but we live in an age in which anyone can share their music and performances with the world on a variety of platforms centered on social networking and video-sharing sites, and anyone can become a virtuoso player.
The flagship line of Momose Custom Craft Guitars, the "Modern Virtuoso series," continues Momose's tradition of precision craftsmanship and respect for traditional electric guitar design, but has evolved to incorporate ideas born from years of experience by Momose's craftsmen, and specifications that incorporate requests from musicians, resulting in a more unique final product. We developed these electric guitars and electric basses with the goal of making them able to fit into the modern music scene where every performer can become a virtuoso.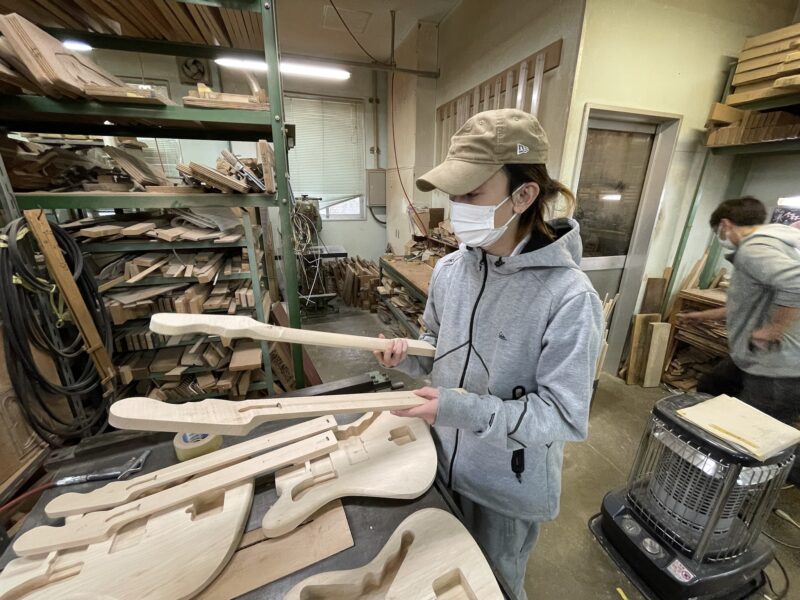 The selection of lighter pieces of Tochi wood to reduce stress even during long sessions such as live performances, selection of fretboard material and determination of appropriate fretboard radius, adoption of a thicker neck shape than a typical JM, different bridges, different selections of fret materials, assembly changes, and so on…
It took more than a year from planning to meetings, the production of several prototypes, and finally to the completion of the final product.
 
The specifications of the model, which incorporate the details that only Kazuki Isogai, who has a vast and diverse experience, can pinpoint, have finally been realized.

Momose Modern Virtuoso Series
MJS-MV Kazuki Isogai 
More details are coming down the line when its own feature page is published around September!
Check Out Its Sound On Kazuki Isogai's Own Channel!
The sounds of the new "MJS-MV Kazuki Isogai" are already available on Kazuki Isogai's SNS and Youtube channel!
---