PRODUCT
Momose Modern Virtuoso Lineup
Since our launch in 2002, we at Momose Custom Craft guitars have been producing high-class vintage-oriented electric guitars and basses with our main goal being to have our guitars be handcrafted from scratch by experienced builders. Our new Modern Virtuoso series was launched in 2020 to share our passion for guitar building with a wider audience, integrating new features sought-after by the modern music scene. In today's world where people can share their own music and performance through social media, the possibility of becoming a prominent and acclaimed musician is open to everyone. With this new Modern Virtuoso series, we hope to be able to help ambitious players find the means to express themselves by creating splendid musical performances.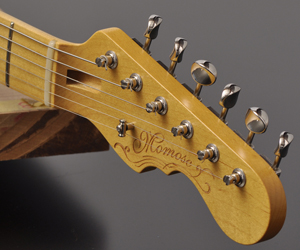 A lineup of custom guitars that incorporate modern updates throughout while retaining the basic structure of a vintage guitar. This lineup is based on Momose's manufacturing philosophy, "To bring the most out of the material by keeping its uniqueness in mind while working on it"



The latest developments in guitar making such as the wood binding techniques and the implementation of joint plates that are adopted on ML models now come together to produce a superior family of products. This is a line of instruments that will make you feel like they have been with you for a really long time from the moment you pick one up, and this is not by chance but rather by design. So please, take a look at the result of the culmination of advanced techniques, tools, the accumulated knowledge of Momose's years-long career, and the careful and skilled work of our craftsmen that is gently applied to each and every single one of these -All Handmade- guitars!