MC2-MV/M
Specification
Body

Ash 2P
Neck

Quartersawn Maple
Fingerboard

Maple
Nut

High Density Bone(水牛骨)
Bridge

GOTOH/510T-FE1
Machineheads

Hipshot/Grip-Lock Open
Fret

JESCAR/9662NS
Pickups

Mojotone/Classic Strat x2 Classic Humbucker Hot
Controls

1Vol,2Tone,5Way PU Selector
Scale

25.5 inch
Width at Nut

42.0mm
Fingerboard Radius

210R
Finish

Top Lacquer
Strings

Elixir NANOWEB Light(.010-.046)
Accessories

Gig Bag, Allen Wrench, COA
Introduction

When people thought of a "master musician" in the past, they would've thought of the classic image of an uptight snob in an overly elegant room, but nowadays we can observe all kinds of amazing players arise through social media and demonstrate their mastery and skill regardless of where they are from or their background.
The Modern Virtuoso series is a new series of Momose Custom Craft Guitars manufactured in our Aska Factory in Matsumoto City, Nagano, that respects the history of traditional electric guitars and has been finely tuned to accommodate the necessities of the modern musician. We develop electric guitars that fit the modern music scene where guitarists can become master musicians.
A lineup that transmits all the value bestowed by being produced by skilled craftsmen at the Aska workshop which started operations in 1977 and has steadily accumulated technology, technique, and experience for over 40 years.
Quartersawn Maple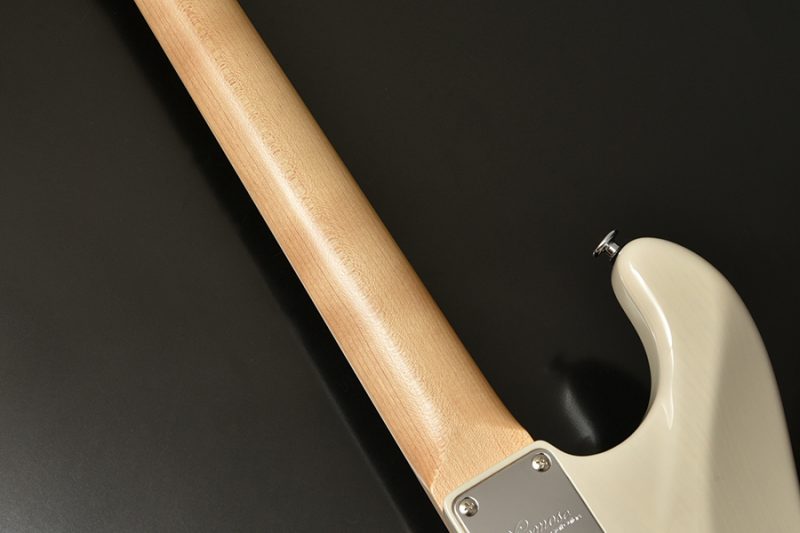 The Superior structural integrity of the quartersawn maple increases the stability of the neck and contributes to maintaining it in a proper string action with good playability, helping a player achieve the best performance possible.
Pickups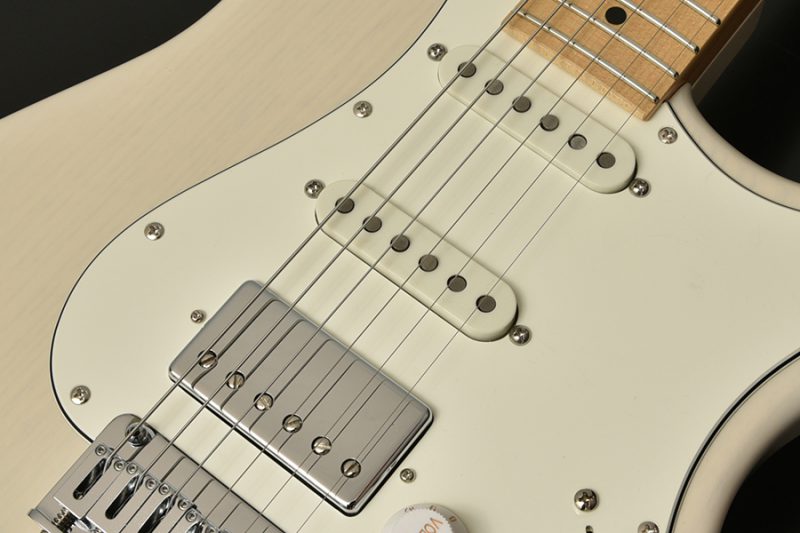 Using classic Strat-type pickups for the neck and middle pickups in the form of two Clone '59 model pickups, with a Classic Hot, which has a more modern flavor, a little more bass, and longer sustain for the bridge pickup.
Bridge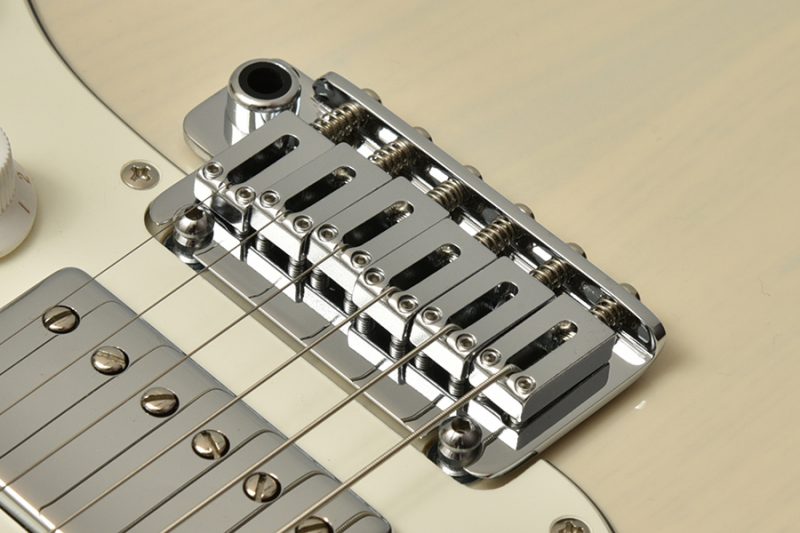 Equipped with reliable Gotoh 2-point support tremolo unit.
The 510T series does not follow conventional vintage style but instead pursues the goal of greater tremolo functionality. It has a low clearance arm system of our own design. To guarantee a strong and hard-wearing tremolo blade, extremely resilient chromium-molybdenum steel was adopted for the plate. It's finished with high-grade heat treatment and precision machining. It's a 6 pivot point type, the same as the synchronized style, and a 2 pivot point anchor nut type, which incorporates stud lock (PAT.)* In addition, GOTOH's original FST feature (PAT.) between the saddle and ball end, keeps the strings from touching the plate. Because of them, the unit's ability to return to tune when using the tremolo arm is significantly improved. The 510TS comes with the popular steel block as standard. (Quoted from GOTOH's website)
https://g-gotoh.com/productList/tremolo-510-series-ja/page/2/
Tuners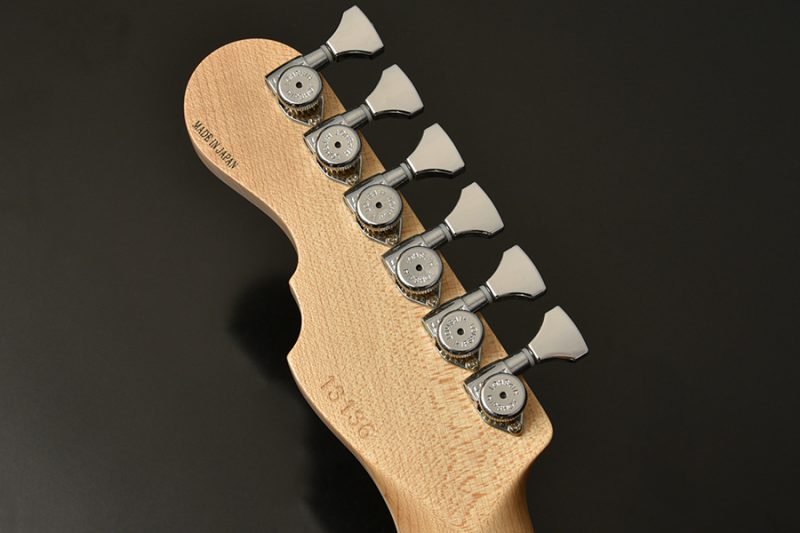 Uses Hipshot rock tuners first released in California in 1983. Precisely cut 18:1 gears and nylon bearings combine to keep your tuning experience feeling smooth and maintain tune for years to come. The mounting tuners have different post heights for each string, giving proper tension to each nut. This mechanism eliminates the need for string guides.
For example, when doing extreme arming, the strings wound around the string guide and tuner posts ahead of the nuts are strings that can cause plenty of problems and mess with the tuning when returning from the arm down. By using Hipshot's lock tuners, the winding of the strings is almost eliminated (about halfway around the tuner post), and it is not held by the string guide. This greatly improves the tuning stability after arming.
Frets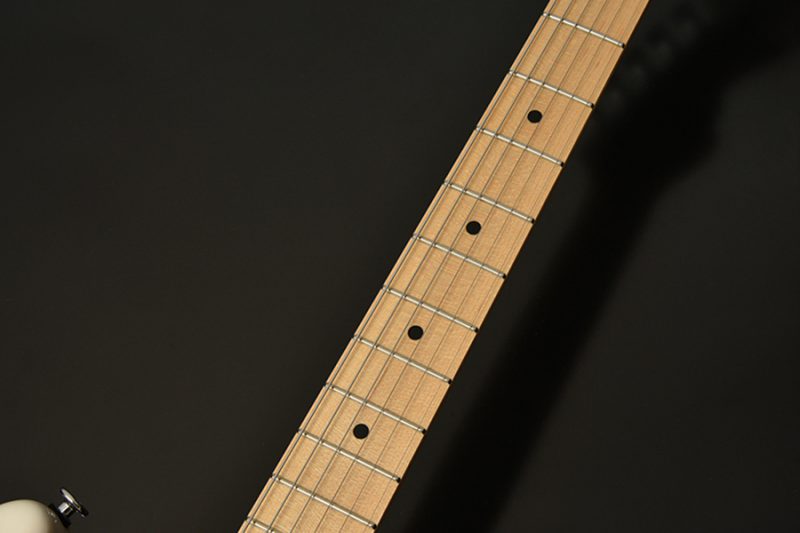 With decades of experience producing precision components, Jescar is one of the most reliable sources of quality fret wires. Jescar frets offer players the benefits of greater hardness and tighter grain structure for better durability and enhanced playability as well as an incredible surface quality for a brighter appearance and smoother finish.
High-density oiled bone nuts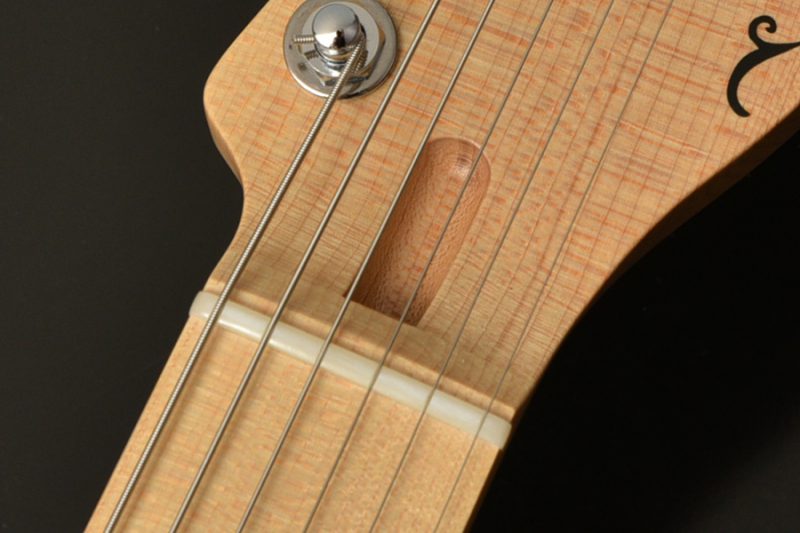 The nut material we selected for the Modern Virtuoso series is water buffalo bone which has a higher density and more stable quality than a regular bone nut. We set up a strict quality standard and only use ones whose specific gravity is more than 1.7. 
It is a similar value to the one found in ivory, which has a specific gravity of between 1.7 and 1.9. With a higher density and specific gravity, it securely supports strings and transmits their vibration onto the body without any loss.