A new Tochi TL style guitar joins the Momose Modern Virtuoso Series (Demo Video Included)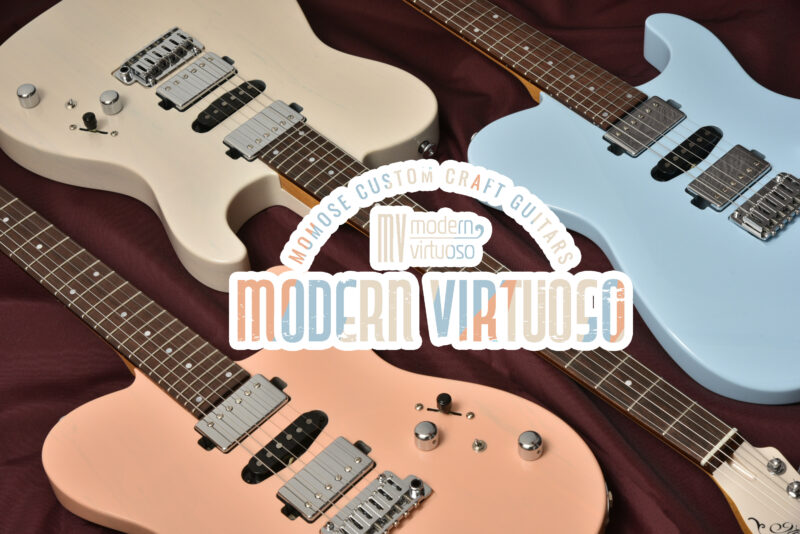 We hope you enjoyed our 2022 Deviser special collection!

We tried various new things for this year's models, such as various materials, different coatings, tweaks of the various features and components, and so on. In addition, we introduced a brand new model to the modern virtuoso series.
And today, we want to introduce it to you!
Momose Modern Virtuoso Series
【MT24-MV-TOCHI/NJ】
A 24 Fret MT model has arrived!!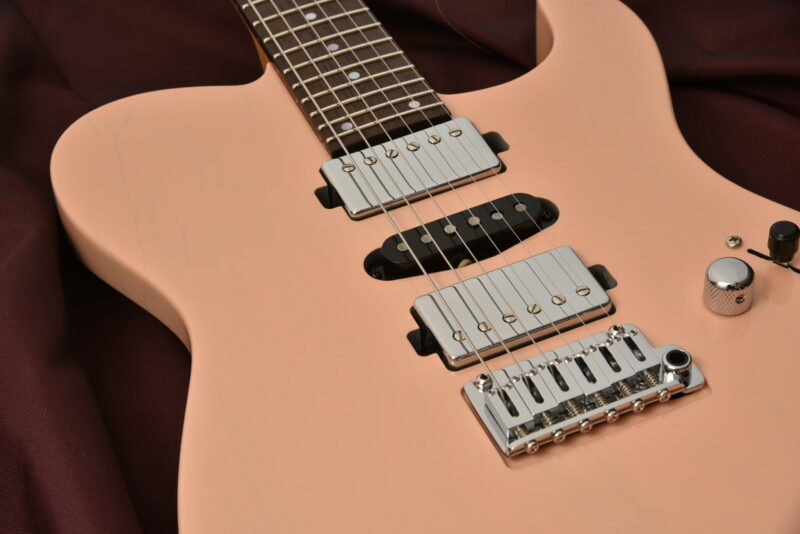 But first…
What is the Momose Modern Virtuoso Series?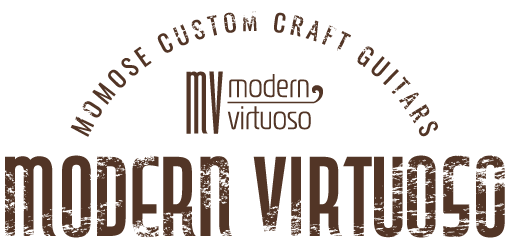 A virtuoso is the master of an art, and this word is usually utilized when talking about music.
The terms "musical master" and "virtuoso" have a slightly ostentatious image of portraits hanging in a music room, but we live in an age in which anyone can share their music and performances with the world on a variety of platforms centered on social networking and video-sharing sites, and anyone can become a virtuoso player.
The flagship line of Momose Custom Craft Guitars, the "Modern Virtuoso series," continues Momose's tradition of precision craftsmanship and respect for traditional electric guitar design, but has evolved to incorporate ideas born from years of experience by Momose's craftsmen, and specifications that incorporate requests from musicians, resulting in a more unique final product. We developed these electric guitars and electric basses with the goal of making them able to fit into the modern music scene where every performer can become a virtuoso.
In other words, the "Modern Virtuoso Series" is the result of improving and evolving those original specs from the "Momose Original Series"!
You can really feel all the small details from the techniques the builders utilized while making this series!
24-fret & TL Shape Model
One of the biggest features we would like to go into more detail about is the 24-fret construction.

Recently, a great number of diverse genres are popularizing, so to keep up, guitarists need a wider range of sounds and options to accommodate all those genres, and after hearing a lot of feedback from our players we decided a 24-fret construction was in order.


However, the combination of a TL shape and 24-fret specs is not exactly the most widely accessible in the market, and most of what you kind find online is our Bacchus brand products, the TACTICS24 model.
At any rate, it is not enough to just exchange the neck for a long type from a normal one. If you just do that, you won't be able to maintain a proper weight balance, negatively impacting the playability.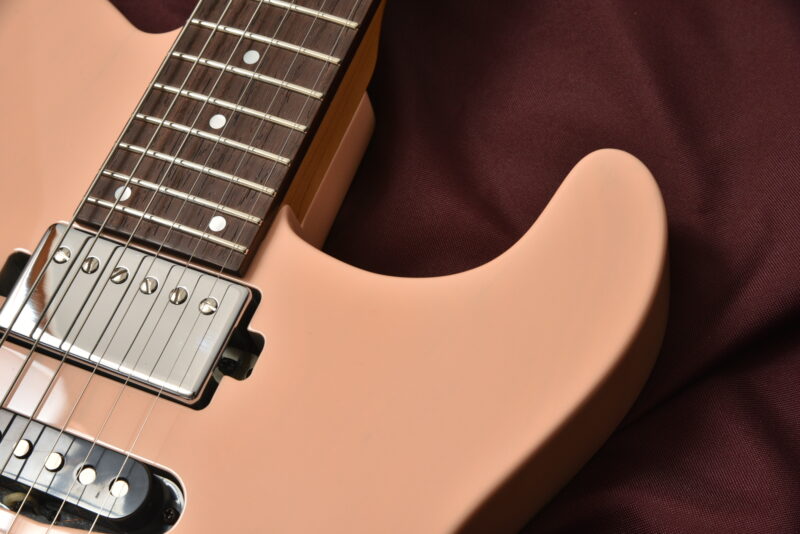 In this model, we redesigned the body shape to be able to optimally match that 24-fret construction.
We enlarged the gap in the heel to provide better access to the higher frets. Also, to improve the playability, the body is slightly smaller than a normal one. Of course, the pickup positions are rearranged to properly match the 24-fret design.
Still, we took special care and made sure to maintain the looks of the traditional TL shape.
In the end, we succeeded in keeping the balance of cool looks and good playability.
H-S-H Pickup Layout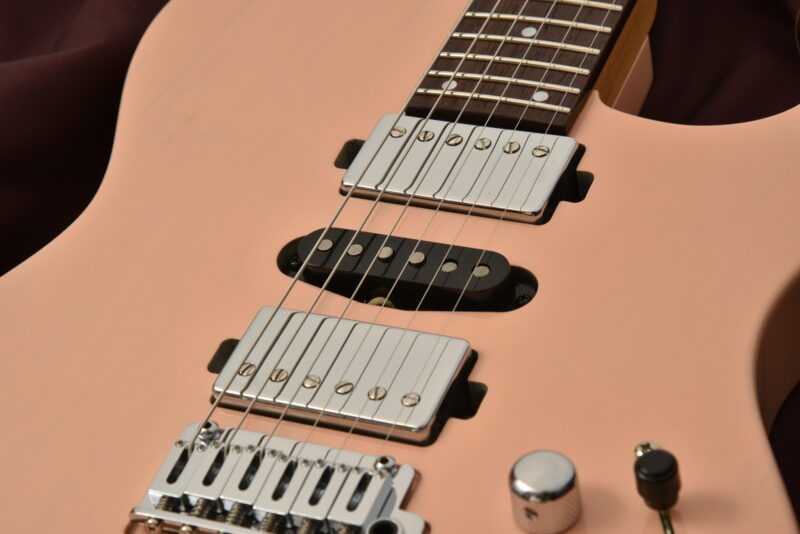 Thanks to the 24 frets, the range of sound you can make with this model are vast, and we went with an H-S-H pickup layout to give you all the necessary tools to make the most out of that big range of sounds.
These days, we often see models with S-S-H pickup layouts, but this front humbucker is capable of outputting a deeper and lower-pitched sound than a single-coil pickup.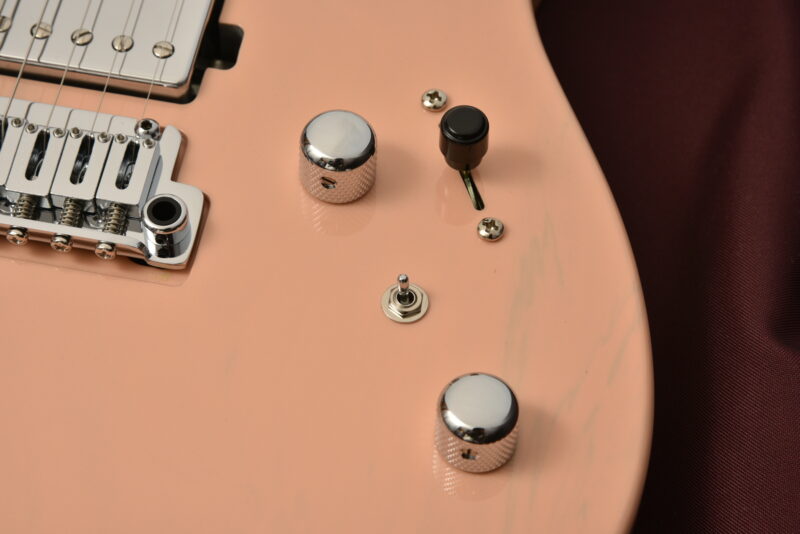 For those who play TL models and prefer to use a single-coil pickup, we added the system of coil tap. You can choose each sounds suited to situations, and it is possible to play crispy TL tones.

For that reason, we recommend it for the people who seek modern specs and playability fit for any stage or gig, that also look have the option to play like a traditional TL.
The Craftsmen All-out Effort to Show Everyone The Goodness of Tochi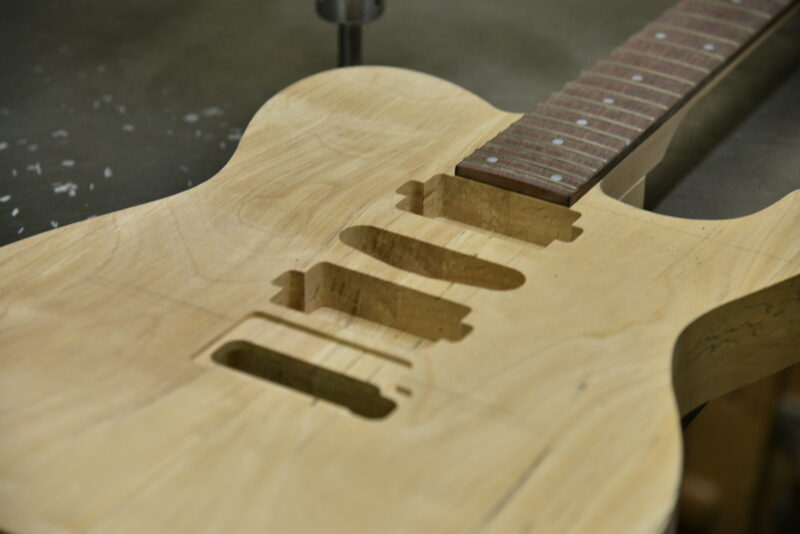 This is the first time to make a TL model in our modern virtuoso series, and the wood materials we used for the body are not Alder or Ash, but Tochi which is a valuable Japanese wood(和材 wazai).
Tochi is slightly weighty and is a relatively soft material, and its sound is characterized by a moderately solid tone that cuts through the mix with a shimmering midrange. It handles distortion really well, coming through well-defined even on the lower tones, and thanks to this, matching a wide variety of different musical genres.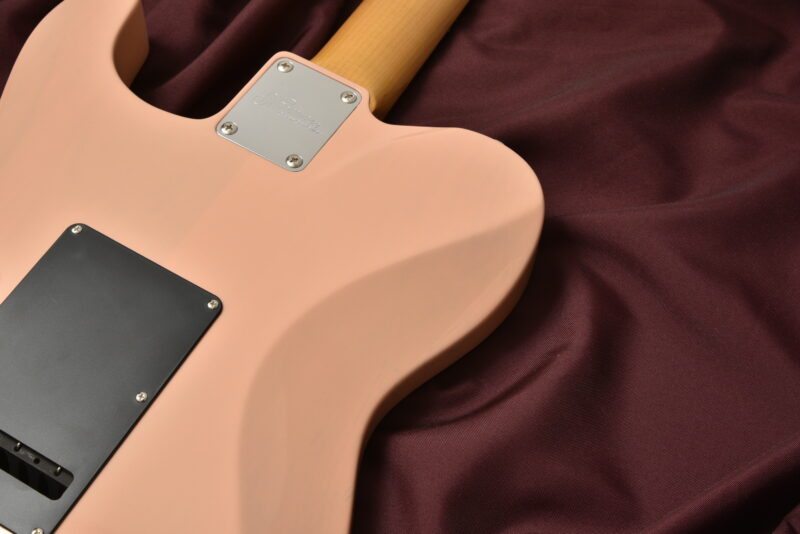 Since this is a material that comparatively has a more visible wood grain, so it is often colored in elaborate ways to show it off, but for this model, we decided to match the regular coloring and hide the wood grain.
This is an expression of the spirit and confidence of the craftsmen, who are not swayed just by what's the trend but are determined to use this Japanese material to give traditional high-end materials a run for their money.
Demo Video by Guitarrist Kazuki Isogai
We got the taltented Kazuki Isogai to give us a hand with the demo video for this model!
Kazuki Isogai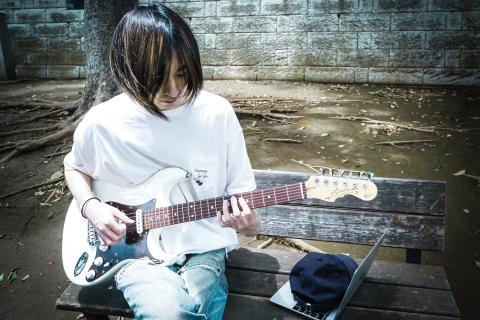 Biography
A guitarist living in Tokyo, Japan. With over 200,000 followers on Instagram, it is popular both in Japan and overseas.
He participated in the 2019 NAMM SHOW. In the same year, he gradually expanded his business overseas and experienced tours in Asia, the US, Europe, and Africa.
In addition to his own activities, he has supported and recorded for artists such as Kaela Kimura, CreepyNuts, Iri, and SKY-HI.
In 2022, he joined SANABAGUN.
Lastly, this July of 2022, the production of his own signature model started.
MT24-MV-TOCHI/NJ

---